HEAT RECOVERY UNITS (HRV)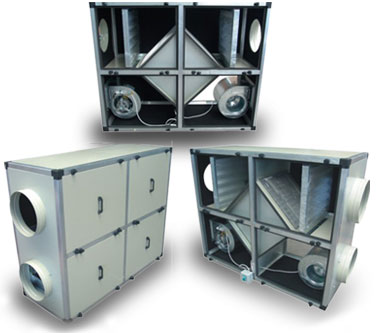 Heat recovery units at spaces which needed fresh air, for the purpose of energy saving devices manufactured and produced in the range of air flow rate of 500 m3-2000m3.
Designed to be placed between the suspended ceiling height by ease installation and maintenance can be done. It's a compact device with fully sealed cell, quiet running motor, radial fan, high efficiency recuperator, maximum sound insulation and heat insulation.
Heating and Cooling for the purpose of improving the quality of the air spaces are in need of clean and fresh air. Generally, instead of exhausted air is taken directly from the external environment and fresh air, additional heating is required to maintain the temperature of the ambient air.
HRV units which contained in the exhaust air heat recovery recuperator air intake with air flow opposite to each other without ensuring first contact with the outside air heat transfer through the ambient air temperature closer to the temperature of the air intake. An auxiliary source of heat or cold less capacity than is required with the desired temperature is achieved. Energy saving occurs with heat recuperator efficiency up to %70.
Panel
•             Galvanized powder coated outer surface
•             Single-or double-walled structure of the cassette
•             Acoustic and thermal insulation, insulated inner surface
•             Maximum efficiency
Fans
•             Maximum efficiency, coupled with static and dynamically balanced centrifugal fan motors.
•             Fan speeds depending on degree of protection IP55
Heat Exchanger
High efficiency, low pressure loss crossover with a plate type heat exchangers
Electricty
As a standard 4,000 m3 / up to 220 volt-3-speed fans are used in single-phase motor, Controlled by 3-speed rotary switch. Optionally it can also be controlled by electronic command
Filter
Which controls the air flows according to international standards and can be easily mounted cassette filters G3
Uses;
– In need of fresh air every place
– Offices
– Houses
– Shopping Centres
– Banks
– Production Facilities
– School and Sports Facilities
– Meeting Rooms
– Data Processing Centers
– Laboratories